Grow lifetime value in your customer's Home
file

.
We've streamlined engagement between your customers and your home service business.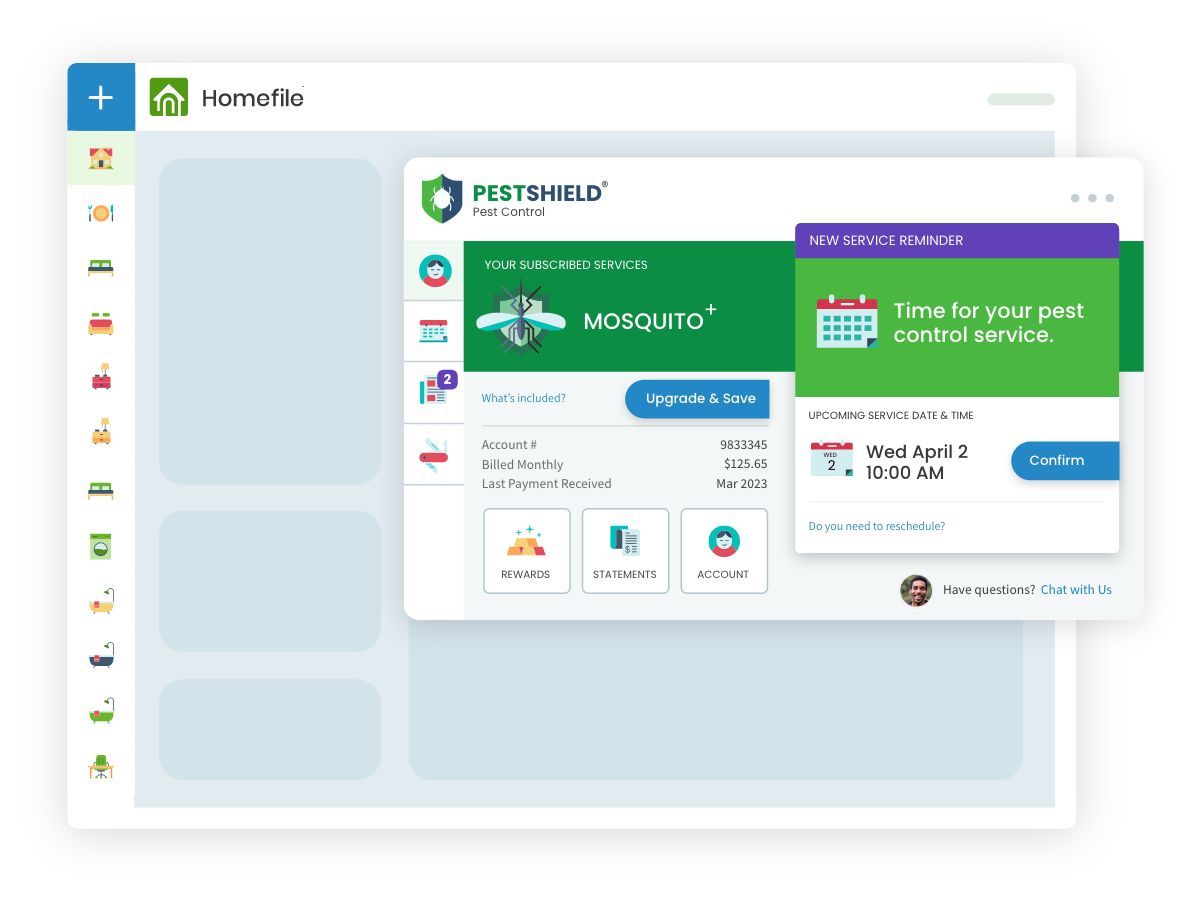 At Homefile, we think differently about the homeowner & service provider relationship.
We understand that home services are crucial to maintaining a home, and homeowners place a high value on trust and reliability when it comes to their service providers. Unlike other platforms that treat home services as commodities, we created Homefile to offer a modern and effortless way for you and your customers to build a trustworthy and supportive partnership throughout the home-ownership journey.
Homefile delivers tangible value to your home service business.
Homefile boosts revenue by scaling transaction volume and enabling subscriptions and incremental purchases, increasing loyalty and enhancing satisfaction.
Homefile helps you optimize cost structures, reach wider audiences, deliver personalized experiences, and operate more competitively in today's fast-paced market.
Homefile empowers your customers to provide referrals, feedback and insights, enabling you to refine offerings and tailor marketing strategies more effectively.
Your business storefront in every Homefile.
It's simple & quick for customers to transact with you.
Whatever type of home service company you have, Homefile provides the capability for all your customers to have your services and information all within a click's reach. It's like having your own personalized account manager in every home.
Shrinking time-to-value for you and your customers.
Lower costs while increasing customer loyalty.
Retaining a customer is much cheaper than acquiring a new customer. Studies suggest acquiring a new customer can cost five to seven times more than retaining an old one. With Homefile, we connect your brand & services to your customer's Homefile, shrinking the time and cost it takes for them to transact.
From
high-cost low-return
Home service outbound calling is becoming less effective due to consumers relying more on online platforms to schedule services, spam, unsolicited calls making people hesitant to answer unknown numbers, and the prevalence of online booking systems and apps.
Simplifying ordering improves customer experience, increases loyalty, and boosts revenue. By offering seamless and user-friendly online ordering options, you will continually meet customer expectations and stay competitive in today's fast-paced world.
We're invested in everyone's success.
We've made engagement tangible for everyone's bottom line.
Connecting homeowners and service providers in a seamless way accelerates value and benefits both parties. Homeowners can address their needs faster, while service companies gain valuable insights to enhance their operations and customer service. Ultimately, this fosters a more productive partnership for mutual benefit.